Note: Only users with the Creator role may manage folders.
Folders help organize reports and additional company data. When users log in to Emburse Analytics, they will have access to a few existing folders.
Folder Types
Personal Folder

The Personal folder is named after the user. All the Looks and Dashboards created by the user can be found here. They are accessible only by that user.
Organizational Folder

The Organization folder is named after the customer and accessible by all Viewers, Creators, and Administrators. It holds Reports and Dashboards specifically for the organization.
Standard Folder

This folder includes all Emburse-created content, including standard reports and Dashboards. All users have access to this folder.
The Standard folder contains subfolders for each Emburse business unit to which the customer subscribes. If a customer uses Certify in addition to other Emburse products, users will see a subfolder for each. In the example below, the customer only uses Certify.
Inside each folder is an Expense Spend Dashboard and preconfigured Expense Spend Looks.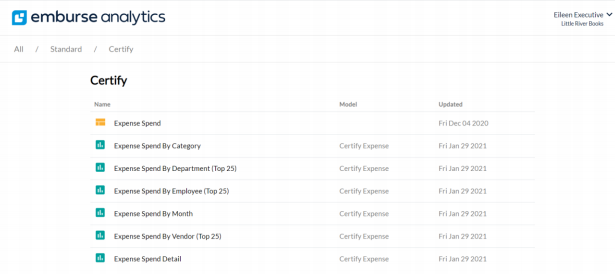 The Expense Spend Dashboard shows performance data for key company analytics:
Expense Spend by Month
Expense Spend by Department
Expense Spend by Category
Expense Spend by Employee (Top 25)
Expense Spend by Vendor (Top 25)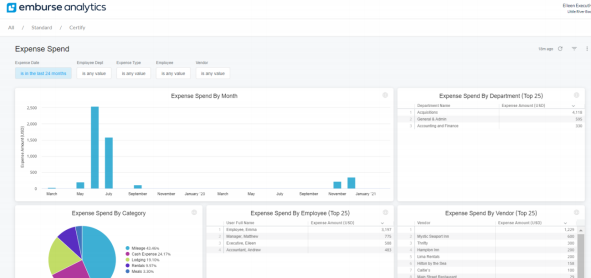 The Templates folder allows Administrators and Creators to view pre-configured Look templates. These templates can then be copied to an Organization folder and customized as needed for specific data requirements.
Create a New Subfolder
In order to create a new subfolder in one of the preconfigured folders, the user must be a Creator or an Administrator.

1. Click the +CREATE button.

2. From the drop-down menu, click Folder.

3. Name the folder, then click Create.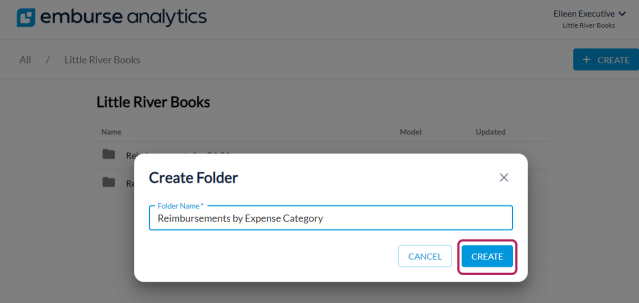 4. The new folder will appear in the Navigation bar at the top of the page. From here, a Creator may add new Looks or Dashboards to the Folder.