Note: Only Emburse Analytics Pro users with the Creator user type may add Dashboard tiles.
A Dashboard is a set of visual Reports displayed on a page. A Creator or an Administrator can build custom Dashboards in any folder or subfolder at any time.

Tiles are visual representations of report data, including pie charts, scatter plots, and bar graphs. Tiles can be created by saving a Report to a Dashboard, or they may be added directly to a Dashboard. Only Creators and Administrators may add tiles to a Dashboard.

1. Click Add Tile to start adding tiles directly to the Dashboard.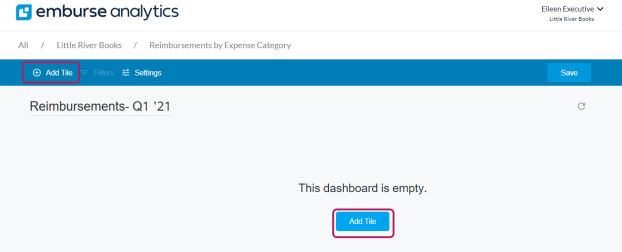 2. Select an Explore from the options in the sidebar.

3. Select the desired data metrics from the fields provided.

4. Open the Visualization section to select the desired format. This selection determines how the data will appear on the Dashboard tile.

5. Click the Run button to gather the report data.

6. Click Save to finish adding the tile to the Dashboard.

7. The new tile will appear on the Dashboard. Once all the desired tiles are added to the Dashboard, click the Save button to finish making changes.