Adding and Editing Report Content
Note: Only users with the Creator user type may configure Reports.
Once you've created a Report, you are able to configure the data fields, filters, and how the data appears to Viewers using the tools described below.
Make sure to save your Report once you've configured it.
Data Selection
Choose which data fields will appear on the Report from the Expense Lines field selector.

The data fields you select will appear as columns under the Data section of the Report.

To remove data fields from a Report, click the Gear icon next to the column header and select Remove from the drop-down menu.

Field Selector
Select data to add to a Report using the provided list of data fields, or create custom data fields and filters using the Expense Lines field selector.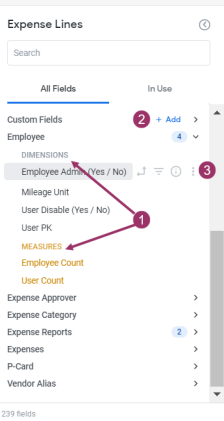 1. Field Types
The field selector contains two types of data fields: Dimensions and Measures. Select the fields you want to add to the Data section of the Report. At least one Dimension field and one Measure field are required to run a Report.
2. Custom Fields
You may create your own custom fields and table calculations by clicking +Add.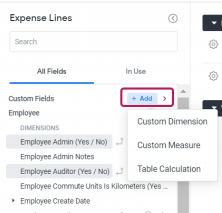 3. Other Actions
There are four icons next to data fields in the Field Picker that offer additional actions:
Pivot Icon: Moves the data field horizontally in the Data section of the Report. Each Value in that field becomes a column. This icon is only available for Dimension fields.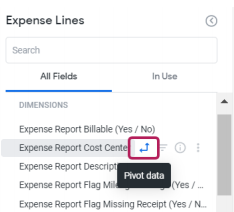 Filter Icon: Add customizable data filtering options to the Filter section of the Report.
Information Icon: Displays more detail about the field, like data type and field name.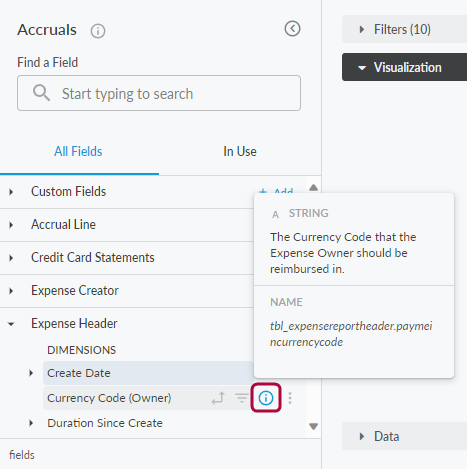 Three Dot Icon: Quickly create custom fields based on a field's type.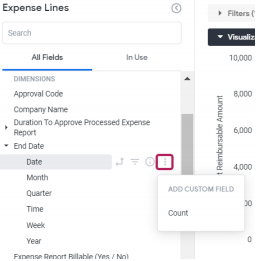 Visualization
Open the Visualization section to select how the Report will appear to Viewers.

Clicking the icons in the header of the Visualization section changes the type of graph that appears.
Filters
After adding a filter to a Report, you may further customize filtering options using the drop-down menus that appear in the Filter section.